Hosted by the Niagara Peninsula Conservation Authority, everyone's favorite fall festival is back again this year, and Lovebee Products will be there once again! Continue reading below for event dates, times, prices and more!
About The 49th Ball's Falls Thanksgiving Festival 2023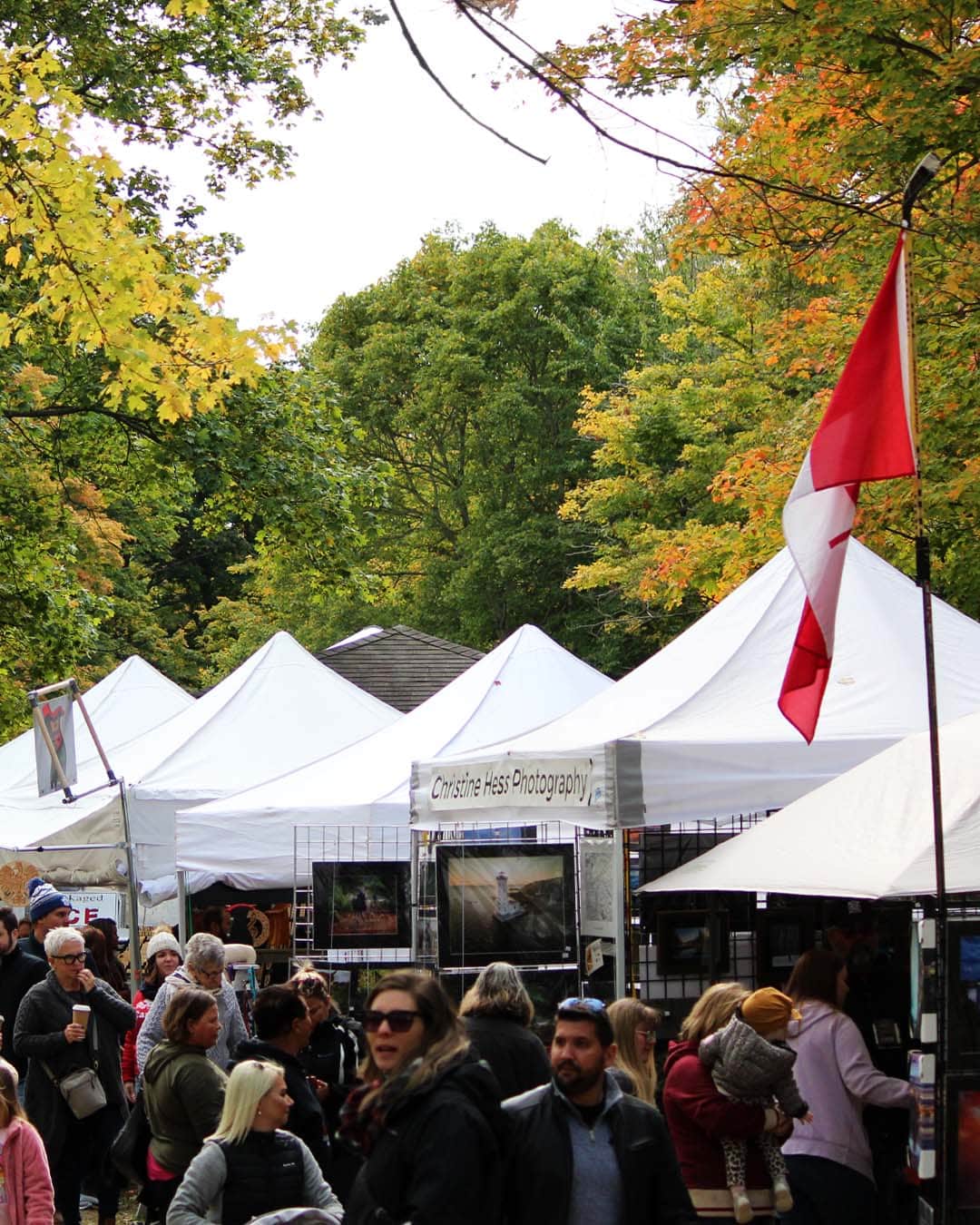 Situated perfectly along the Niagara escarpment, the Ball's Falls Thanksgiving Festival 2023 is the region's most beautiful and picturesque festival this time of year. Surrounded by the red, yellows and browns of autumn among the rolling hills, forest trails and the falls itself, you definitely want to have your camera ready!
You'll also quickly find that there's lots to do at this family friendly all ages festival! This year you'll find over 150 unique Canadian craft and artisan vendors, delicious foods, craft beverages and wines, the local farmers' market vendors, and live entertainment.
Do make sure to stop by the Lovebee Products tent to experiences the Niagara Region's finest handcrafted bath, body, skincare and homecare products!
Intertwined amount the artisanal crafters and vendors, you'll also experience the rich history of the area as you tour the Victorian-era Ball family home, historical chapel, original grist mill and explore the heritage village of Glen Elgin to watch blacksmithing, wood carving, handweaving and spinning demonstrations.
Finally, the Ball's Falls Thanksgiving Festival 2023 is a wonderful place for kids with face painting, magic shows and more!
Date & Time
The 49th Thanksgiving Festival is a rain or shine event that takes place over four days:
Friday October 6th, 2023: 10am – 5pm
Saturday October 7th, 2023: 10am – 5pm
Sunday October 8th, 2023: 10am – 5pm
Monday October 9th, 2023: 10am – 5pm
Location, Parking & On Site Services
The Ball's Falls Conservation Area is located at 3292 Sixth Ave in Lincoln, Ontario.
There is parking on site, however event hosts do recommend carpooling when possible as the event is extremely popular and parking can fill up extremely fast!
Admission / Ticket Prices & More
Regular admission to the 2023 Ball's Falls Thanksgiving Festival is $9 for adults, and $7 for children ages 3 to 11, as well as seniors.
To avoid having to stand in long lines at the festival, you can also purchase tickets ahead of time online.
Portable bathrooms and ATM are located on site.
Pets are not allowed onsite, with the exception of service animals.
Why Attend the Balls Falls Thanksgiving Festival 2023?
The Ball's Falls Thanksgiving Festival has been a cherished Niagara tradition since 1974. It's not just a festival; it's an experience that brings together the community, celebrates the beauty of the season, and showcases the best of Canadian craftsmanship and culinary delights.
Whether you're a returning visitor or a first-timer, the festival promises a memorable experience for everyone. Don't miss out on this annual celebration of art, history, and nature!
What to Expect from Lovebee at the Ball's Falls Thanksgiving Festival
For those unfamiliar with Lovebee, we are a dedicated Niagara-region business that handcrafts holistic, all-natural bath, body, skincare, and homecare products from our store located at 44 Jarvis Street in Fort Erie!
Each product is a testament to our commitment to the freshest high quality small batch natural products, best sustainability practices, and genuine care for our community and the environment.
In 2023 we're excited to introduce some of our newest creations exclusively at the festival! Be among the first to experience and purchase our latest handcrafted products like our "Cozy Home" foaming hand soap and new lines of artisanal natural soaps. This year we will have lavender, orange and vanilla, lemongrass and patchouli and lemon available while supplies last!
Khaili and Tim will be on hand to answer any questions, offer personalized product recommendations, and share the Lovebee story. Come and meet the faces behind your favourite products!
Not sure which product is right for you? We'll have testers available for all our products, allowing you to try before you buy. Experience the Lovebee difference firsthand!
We're thrilled to be a part of the Ball's Falls Thanksgiving Festival 2023 and can't wait to connect with both new and returning customers. See you there!