Fresh, Locally Made Natural Cosmetics
If you've been searching for somewhere in the greater Niagara Falls region for natural, freshly made, bath, body, skincare and homecare products, you will certainly want to stop by the new Niagara region destination for natural cosmetics — the Lovebee Products natural skincare store!
Located at 44 Jarvis Street in Fort Erie, Lovebee Products create wholistic small batch skincare products right on site! Products range from natural body creams, balms and oils to body washes, bath bombs, room sprays, mom and baby products, men's products and much more!
All Lovebee products are created using completely natural ingredients — or perhaps more simply put, ingredients that come from either land or sea, and are primarily botanical (derived from plants). There are not any synthetic chemicals or stabilizers used whatsoever.
Specifically, products do not contain SLS, SLES, sulfates, synthetic stabilizers, phthalates, parabens, artificial colouring agents, flavouring agents or fragrances!
Historic Charm In The Bridgeburg District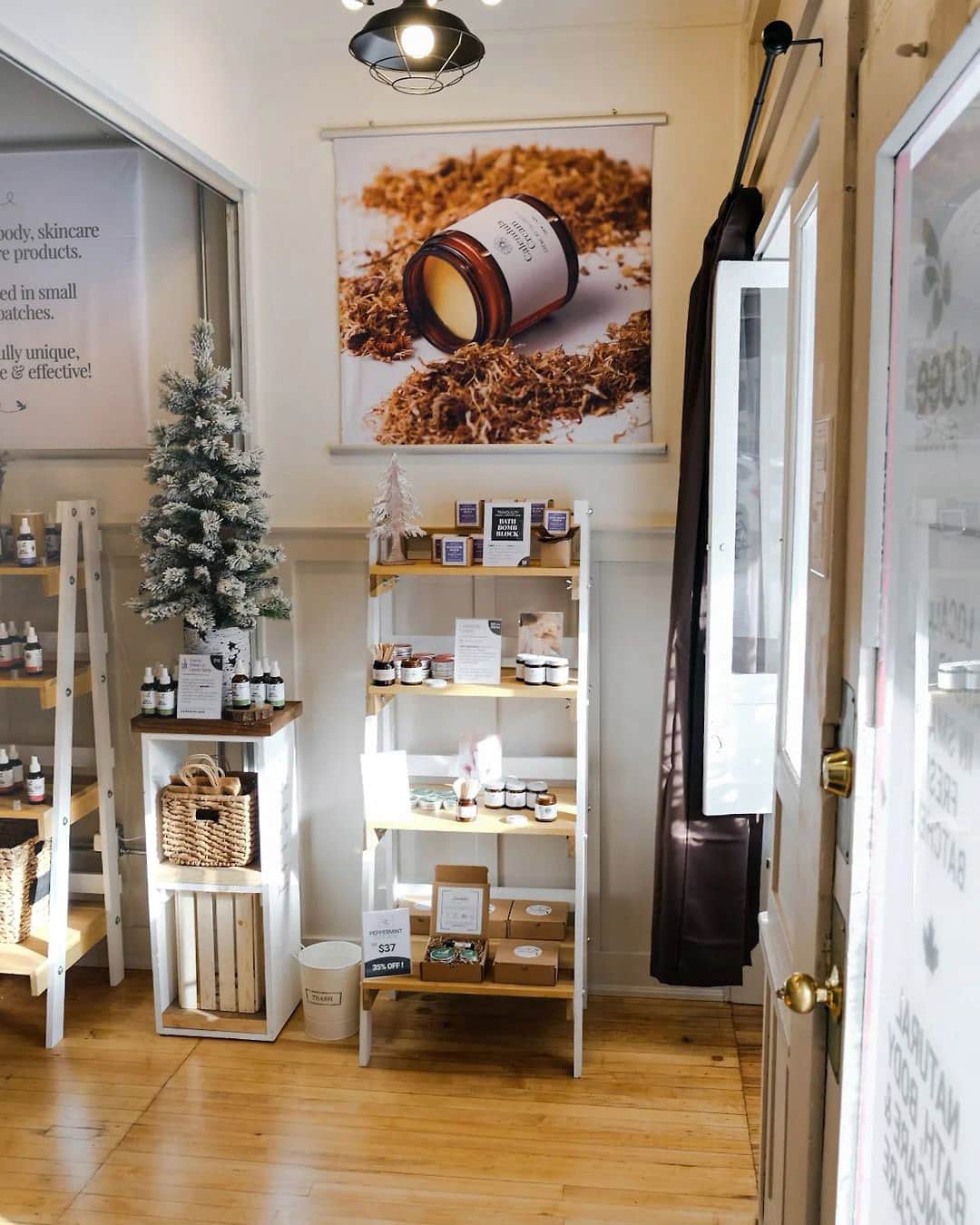 With it's charming historic exterior and large vintage display windows, the Lovebee retail store front sits comfortably at the middle of main Jarvis street in the Bridgeburg District.
The street has recently undergone large scale improvements to the road, sidewalks and street fixtures making it an enjoyable stroll from the top of the street down to the Niagara River at the bottom.
Lovebee joins a host of other businesses which you may enjoy during your visit, including F8 (Fate) Salon, the Old Bank Bistro and Green Apple Café to name a few! After some years of challenges, the historic center of Fort Erie has turned a new page and is truly being revitalized — and Lovebee Products is certainly bringing its own 'buzz' to the area too.
Nothing Beats A Handcrafted Experience
When you walk in the doors of the cute artisanal natural skincare store, you're greeted with the most delightful mix of lavender, chamomile and other ingredients as the fragrances of products blend into a beautiful aromatic experience. What is fascinating is that each visit will be different as different products are being created and featured.
The store décor sits somewhere between modern farmhouse and old world apothecary. It feels warm and inviting as mood-boosting music softly plays in the background.
From $9 bath bombs and lip balms to $18 creams, prices are very affordable, especially for skincare items. It is one of Lovebee's core values that natural products remain affordable and accessible to all.
Lovebee's product lines are formulated in house and handcrafted by Khaili McMorris, co-founder of Lovebee Products. You can tell that each product has been created and refined with great care and detail. Packaging is primarily glass and aluminum and feel like premium products to touch.
Testers of each product are available throughout the store making the experience of visiting that much more wonderful and unique. It is not often these days that you can sample every product in store before purchasing!
Lovebee's products aren't the only thing handcrafted either. As you walk around the pleasantly creaky original hard wood flooring laid in the 50's, you'll note that the vast majority of displays and fixtures are unique to the store too. Upon a little investigating, you'll learn that Lovebee makes their own store furniture!
A Trusted Local Name Since 2015
If you're a resident of St. Catharines, Niagara Falls, Welland, Port Colborne, or Fort Erie, chances are you've already encountered Lovebee Products at one of the many regional markets and events that take place throughout the year.
Lovebee has been a regular participant at various events, including the Handmade Spring & Holiday Markets, the Balls Fall's Thanksgiving Festival, the Marshville Heritage Festival, and the Ridgeway Farmers' Market.
Even if you're a little further away, you may have come across Lovebee at the One of A Kind Show (OOAK) in Toronto, a showcase for unique and innovative products.
Regardless of where you've encountered Lovebee, since 2015 one thing is certain: you'll always find fresh, nutrient-rich, and unique products created from trusted and proven recipes. Whether you're looking for a new skincare routine or want to switch to natural, sustainable products, Lovebee has something for everyone.
A Trip Worth Taking
Lovebee Products, the Niagara region's newest natural skincare store, offers a delightful range of bath, body, skincare and homecare products that are sure to indulge your senses and elevate your self-care routine.
One of the unique aspects of Lovebee's products is that they are made on-site, which means they are fresh and bursting with natural goodness. When you purchase Lovebee's products, you can rest assured that you are getting the highest quality natural ingredients that are just days new.
In addition to providing customers with exceptional natural skincare products, Lovebee is committed to excellence, sustainability, and natural holistic living.
By choosing Lovebee, customers can feel good about supporting a small local business that is dedicated to preserving the environment and sourcing ingredients from local farmers and suppliers whenever possible.
If you're unable to visit the new store in person, you can still browse an extensive range of natural skincare products online. The Lovebee online store offers a convenient and secure way to shop for all your skincare needs, with the added benefit of home delivery.
Whether you choose to shop online or in-store, Lovebee's range of natural skincare products will leave you feeling refreshed, rejuvenated, and nourished. So why wait? Treat yourself to the ultimate self-care experience with Lovebee today! If you're local to the Fort Erie, Niagara Falls or St. Catharines areas, you may have just found your new favourite natural skincare store!